What we do: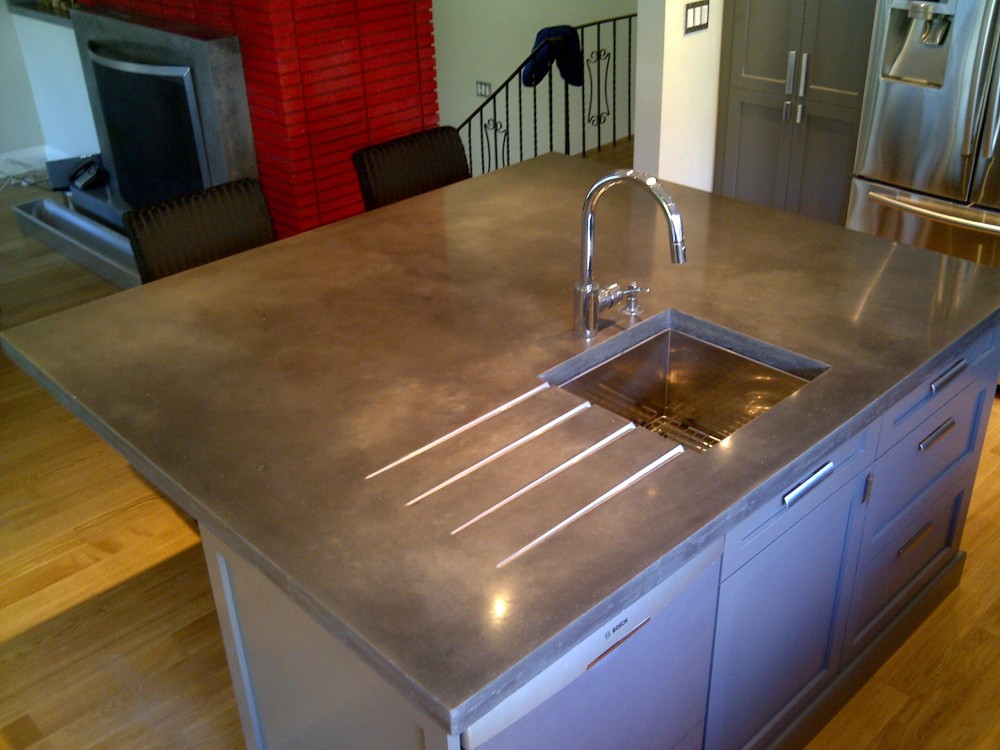 Craft custom architectural elements from our proprietary concrete-like mineral composite material (ECC – Engineered Cementitious Composite). We prefer to make the elements in our facility and bring them in ready-made, but we can also pour on site when the elements are not deliverable.
Review drawings of design professionals and execute the designs
Custom-blend  a limited range of colours to approximately match paint chips or other colour samples
Polish all visible surfaces and seal them with products that are appropriate for their intended application. No sealer is perfect for all applications, and we select the one that will protect best against the most likely staining agents.
Template for custom-fitted elements or accept templates made by others (such as millworkers), as long as whoever makes the template accepts responsibility for the fit
Install our own products or supervise their installation by others.
Stand behind our products. If they do not perform to reasonable expectations, we will correct the problem or replace the elements.
What we don't do:
Work on concrete made by others. We do not polish, stain or seal existing concrete floors.
Make conventional, utilitarian concrete such as steps, driveways, patios, sidewalks or retaining walls.
Compromise on design. We specialize in seamless three-dimensional pieces, so if a design calls for coverage of adjacent surfaces, we will wrap our material around the corner rather than make two pieces and create a seam between them.
Disclose our mix design or sell pre-packaged mixes. We do sell reinforcing fibres and some mix ingredients, but we do not give instructions on how to use them.
Guarantee exact colour matches. There are too many variables that can affect the colour of the finished product, some of which have nothing to do with the ingredients (e.g. ambient temperature and humidity levels will affect colour intensity). We will get close to a colour sample, but you need to accept that all natural materials have some degree of variability. We do guarantee that all the elements in the same order will have the same colour.
Use toxic pigments. We do not offer cobalt blue, bright red, chromium green, bright yellow or combinations of these colours. Non-toxic pigments are somewhat duller than the toxic synthetics or heavy metals, but they still offer a wide variety of earth-tone shades. For the same reason, we do not use acid stains.
Provide shop drawings of our formwork. We consider our formwork design and production methods to be intellectual property, and we keep them proprietary.
Act as designer on a project. We have neither the education nor the experience to offer design services, and since designers are our best clients, we cannot compete against them. If you need assistance with the design of your space, please hire a professional in that field.
For more information, please contact us.