When we started our concrete countertop business in 2004, our goal was to make very strong, very durable concrete. Not knowing much about concrete's environmental impact, we used a high performance mix design with conventional concrete ingredients: sand, gravel, cement and additives chosen for their strength-increasing properties. However, as environmental issues became increasingly important, we started to focus on reducing our material's environmental footprint.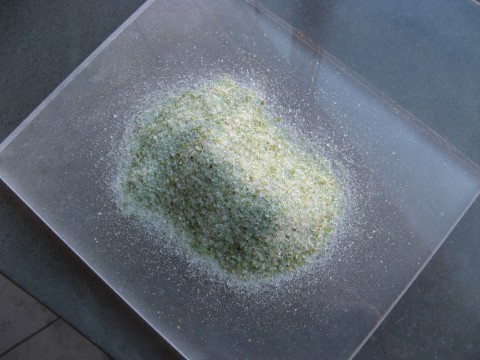 Since 2006, we have been using 100% recycled aggregates in our products. And we're proud of that! first, in 2006, we replaced quarried sand and gravel with lightweight steel mill slag (an added benefit was the reduced weight of our pieces). Later, in 2009, we found a local supplier of post-consumer recycled glass:  mixed-colour broken shards collected from GTA blue boxes and rejected by recycling plants.
The recycled glass we use does not look like the blue, red, yellow and bright green glass that is marketed as 'recycled' by some solid surface and concrete slab manufacturers. For more detailed information on why this confetti-coloured glass is not an environmentally responsible product, please read this article.
Development of our proprietary ECC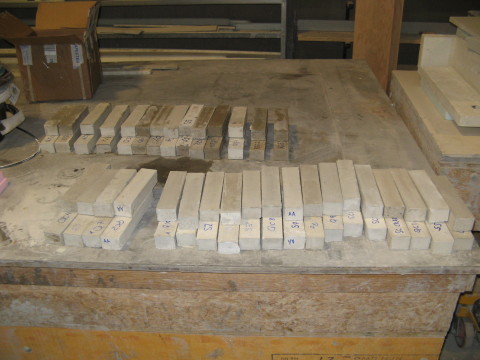 In 2009, we carried out a research project that resulted in the development of our own version of ECC. We created and tested over 100 mix designs to come up with a mineral composite material that was substantially stronger than concrete and also contained 87% recycled ingredients.
With ECC, we can reduce the thickness of our surfaces to as little as 5 mm, although we make our countertops 20 mm thick in order to keep them from sounding hollow. In 2012 we changed our ECC mix design to more than double our product's strength at the expense of a reduction in recycled content to 72%. Now our recycled and local origin content is
Post-consumer: 33%
Post-industrial: 39%
Non-recycled: 28%
Local origin: 92%
With increased strength, we can now reduce the thickness of our largest panels to below 15 mm.  We continue to reduce the quantity of necessary material. And we are continuing our research into further reducing our environmental footprint.
We make the most LEED-friendly surface material in Ontario and north-central US.
For more information email us or call 416-567-5529. Or take some time to browse our portfolio.